Prof. Oleksii V. Kulyk
National Aerospace Educational Center of Youth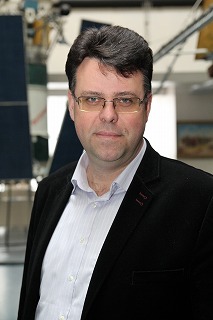 Prof. Oleksii V. Kulyk graduated from the Dnipropetrovsk State University in 1996. In 2004 he defended his thesis for the degree of Candidate of Technical Science and was admitted as a lecturer at the Department of rockets' and space vehicles' production technology and worked as assistant professor. Since 2012, he has been a Professor at the department. From 2007 to 2016, he was a Deputy General Director for science and education at the National Aerospace Educational Center of Youth named after А.М. Makarov. Since 2016 he has been a General Director of the organization.
Since 2007 O.V. Kulyk was actively involved in the development of the system of continuous aerospace education School-University-Enterprise, and its integration in a global educational environment.
Since 2007, he has been a research advisor of educational projects "Osvita-КА" which are implemented under the State Space Programs of Ukraine, allowing young scientists and students holding the master's degree to take part in developments of real specimens of rocket and space systems.
His scientific interest includes creation of new technologies and advancement of available technologies of launch vehicles' assembly, strength tests and pressurized leakage tests of rockets and space vehicles, improvement of an aerospace education system. He is an author of more than 100 scientific and methodological works in the field of rockets' and space vehicles' production technology. Co-organizer of the youth scientific and practical conferences "Human and Space", "University Microsatellites – Prospects and Reality" held at the Ukrainian and international level.
Contact: ncaomu(at)email.dp.ua, ncaomu(at)meta.ua