Dr. K. GOPALAKRISHNAN
Nagarjuna College of Engineering and Technology (NCET)
Project Director, 75 Students' Satellites Consortium: Mission 2022
Member Secretary, 75 Satellites-Project Management Committee, ISRO-HQ
Secretary General, Indian Technology Congress Association
Secretary General, University Space Engineering Consortium-India
Founder, World CanSat/Rocketry Consortium/Championship and Mentor Students' Start-up: TSC Technologies P Ltd
Advisor (R&D) & Professor, NCET/Nagarjuna Group of Institutions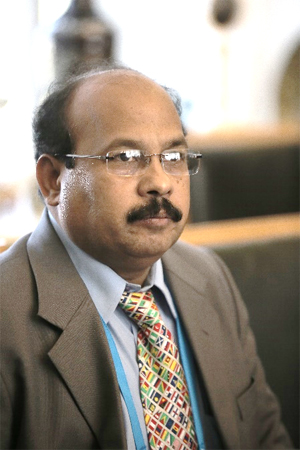 Dr. K. GOPALAKRISHNAN is the Secretary General of Indian Technology Congress Association (ITCA) and University Space Engineering Consortium (UNISEC)-India and also Founder and Convener, instrumental for foundation of 75 Students' Satellites Consortium: Mission 2022! To Launch 75 Satellites by 2022 to Celebrate the India's Freedom 75 Years! He and his team has launched UNITYsat-THREE Satellites with PSLV C51 Amazonia Mission on 28 Feb 2021 from Sriharikota. He is the Member of Co-ordination Committee for Safety and Environment of Bureau of Indian Standards (BIS). He is the Member of Board of Apprenticeship Training (Southern Region), MHRD, Government of India. He is also the Adviser of Paragon Info Systems UK Ltd, England. He has designed, developed and fabricated the World's First and Largest 3D Screen (16'6") Video Simulator Ride having 20 Seats built on 35' Truck Chassis with Expandable Auditorium on Wheels, for which he has received his First International Patent from Russia and was part of President of India Delegation along with 4 IITs' Director/VC, Delhi University who have Visited Russia in 2015. He has filed 7 Patents at Russian Federation Patent Office (Rospatent), Russia, 2 Patents at USA and 2 Patents at Germany to his credit. He also has filed nearly 334+ Patents Disclosures (194 Patents Published in Indian Official Patent Journal) in the last Nine years as Mentor, TSC Technologies and Secretary General, ITCA till 30 September 2021. At NCET, he has 44+ Patents Published to his Credits!
He has received Award for Filing Highest Number of Patents from the World Federation of Engineering Organizations (WFEO) Chief in 2017 and University Space Engineering Consortium (UNISEC) India in 2019! He has been invited (July 09-13) as Jury Member and Speaker at Global Industrial Design Forum of International Trade Fair 2017 held at Russia with Japan as Partner Country. He is having 36+ years of professional experience in Industry, Consultancy, Teaching, Training and Research and visited 40+ Countries. He has vibrant collaborative research works in the area of NanoSatellites with Israel, Russia, Serbia, Japan, Canada and European Union! He along with Dusan, Serbia have founded World CanSat/Rocketry Championship/ Consortium, Globally!
His global professional networks resulted in multinational collaborative projects leading to intellectual property rights (IPR). Under his leadership and guidance, vibrant R&D culture and ecosystem have been created at NHCE, Bangalore and students who were passionate about R&D have got very good launch pad by associating themselves with satellites projects and have also been access to global best facilities at various Universities and R&D Labs through Summer/Winter Schools and/or Internships in Russia, Israel, USA, Europe, Japan etc. with his support and guidance which has resulted in winning many global competitions including 2019 International CanSat/Rocketry Competition held at Serbia and also awarded at Tokyo University in Japan during UNISEC 7th Global Meet for Promoting CanSat/Rocketry Projects in India. He was the Chairman, Board of Examinations and Research and Development Committee of the Institution of Engineers (India), which is the largest Professional Body of Engineers in the World and he has been elected to the National Council from 2008 to 2021, successively for 3 terms! He was also a Member of Board of Governors of National Design and Research Forum and Safety and Quality Forum, New Delhi.
He has done R&D Projects worth Rs.180 Crores+ with the support of DRDO/DRDL/DST and other agencies including Industries/75 Satellites Project. He has published number of Research papers and won various Awards/Honors including Technology Excellence Award during Indian Technology Congress and Engineering Design and Analysis Forum Award for Innovative Design besides guided 7 PhD Scholars and Evaluated 25+ PhD Thesis of various Universities. He was nominated by the International Biographical Centre, Cambridge, England as TOP 100 ENGINEERS 2013 and has been conferred with DSc by Commonwealth University. Presently, he is the Project Director, 75 Satellites Consortium: Mission 2022 to Launch 75 Students' Satellites with ITCA-ISRO-NSIL to Celebrate India's Freedom 75 Years (1947-2022), Bangalore and Advisor (R&D) & Professor, Nagarjuna Group of Institutions/Nagarjuna College of Engineering and Technology (NCET), Devanahalli, Bangalore, Karnataka, INDIA.
Contact:
M: 98451 73730; Email: profgoki(at)yahoo.com