Dušan Radosavljević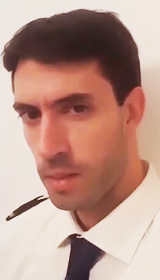 Dušan Radosavljević graduated on the Faculty of Technical Sciences in the University of Novi Sad. He is currently head of the Committee for Space Programme Development – Republic of Serbia, cadet pilot of SMATSA Aviation Academy, member of the Aeronautical Union of Serbia/Vojvodina and Radio-Amateur Alliance of Serbia (YU7RJD). He is the author of the WQM-Serbia (Water Quality Management - System for satellite monitoring of surface water quality (S&F) in real-time and early-warning system) project and the international UNITY Program.
After completing the CLTP7 course, he launched an educational programs related to space engineering for students of elementary, secondary and higher education in Serbia: CanSat & Water Rocket, within the national formal educational system.
He is the author of the national strategy for the development of education/human resources and technical/technological capacities in the sphere of space engineering.
Also, behind himself he has two inventions (patent pending status) related to structure and mechanisms, several lab works related to optics (light interference), magnetic induction, biometry and 3D printing of elements for space applications, eleven software's and educational program for pre-school age children in the field of the astronomy.
Contact: dusanra21000(at)gmail.com