João Dallamuta
Associação Aeroespacial Brasileira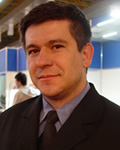 João Dallamuta was born in Santa Mariana and graduated as an electronic/telecommunication engineer (2002) from Universidade Federal do Paraná. He received his MBA degree in Marketing Strategy form FAE Business School (2007). He received his M.Sc. degree in engineering in 2014 from Universidade Estadual de Londrina.
He is a professor in Marketing and engineering in some Brazilian private colleges and a member of AAB (Associação Aeroespacial Brasileira). He is also the winner of Brazilian "AAB MiniSat" Contest, with the design of a small telecommunication satellite based on AESA - Active Electronically Steered Array - philosophy.
Other activities and responsibilities in space field include the design and project management from Satellite Digital TV network for educational uses for a private group in Brazil (2008).
His research interests include spacecraft design, space systems and marketing strategy for aerospace programs.
Contact: joao(at)dallamuta.com
Seminar audience

Aerospace students in Brazilia

From the left: Chantal Cappelletti (Nanosat expert), Paolo Gessini (Brasilia University Aerospace Professor), and Joao Dallamuta

Brazilian Space Agency Headquarters (Brasilia)

lectures on nanosatellites and the 3rd Mission Idea Contest

lectures on nanosatellites and the 3rd Mission Idea Contest