Professor Sir Martin Sweeting OBE, FRS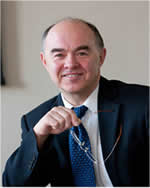 Born in 1951 in London and with a PhD in Electronic Engineering & Communications, Sir Martin pioneered the concept of rapid-response, low-cost and highly-capable small satellites utilising modern terrestrial COTS devices to 'change the economics of space'. In 1985 he formed a spin-off university company (SSTL - Surrey Satellite Technology Ltd), which has now designed, built, launched, and operated in orbit a total of 36 nano-, micro-, and mini-satellites, including the international Disaster Monitoring Constellation and the GIOVE-A Galileo satellite for ESA.
By 2010, SSTL has grown to 300 commercial staff with a £300M order book and total export sales of over £234M. Currently 8 satellites are under construction, and SSTL is also manufacturing 14 payloads for the Galileo navigation payload for ESA/EC. Sir Martin leads a team of 90 faculty and doctoral researchers investigating advanced small satellite concepts and techniques as Director of the Surrey Space Centre, which acts as the research laboratory for SSTL: real academic-commercial synergy.